December 15, 2014
December 2014 Pictometry Calendar Image
December's image is from the Bucket List-themed calendar and takes us to the island of Hawaii.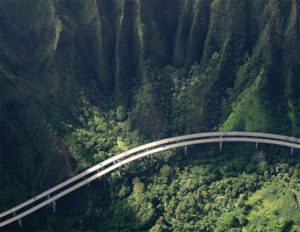 With beautiful beaches, majestic volcanic mountains and a climate that rarely varies from a balmy tropical 80 degrees, the Hawaiian Islands are a feast for the senses.
Be sure to take a convertible, with the rag top down and enjoy the breathtaking views the roads of the islands have to offer, such as this one along Interstate H-3 on the Oahu island.