March 2, 2015
Case Study: City of Norfolk Departments Depend on Pictometry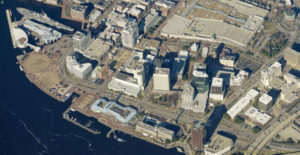 Geographic Information Systems (GIS) have come a long way. From the question of "What is GIS?" to "What can it do for me?" to "You can build that?" The science and organizational capabilities of GIS is why it continues to grow as one of the most integral parts of today's enterprise organizations including city government.
One example of a city that has taken the science of GIS to new levels is the City of Norfolk, VA. Led by Fraser Picard, GIS Bureau Technology Manager, the city has made strides that have elevated them to poster child status, showing that a strong GIS program can make everyone's life better.
Having been with the city since 1994, Picard has been a leader in incorporating GIS solutions. He gained notoriety in 2012 by developing, with his team, STORM — System to Track, Organize, Record and Map. The program has enabled city workers to more accurately report and map damage from storms and simultaneously push that data out to residents online. The application has had excellent reviews and the results pre- and post-Hurricane Irene were tremendous.
But one of Picard's ongoing successes has been the incorporation of Pictometry® intelligent aerial imagery into the City of Norfolk GIS program starting in 2004. Following an example of a neighboring jurisdiction, Norfolk was aware that the young Pictometry International (founded in 2000) had captured its first imagery in the spring of 2001 and delivered its first complete library to Arlington County, VA. The imagery was used by the Arlington County Fire Department during the response to the September 11 attacks on the Pentagon. Pictometry was also the first company to be allowed to fly Ground Zero to help in the search, rescue and recovery efforts.
Norfolk followed with their first flights in 2004. They incorporated a desktop imagery viewing application at the same time, Pictometry's Electronic Field Study (EFS). Developed to view, interact and extract data from the imagery, EFS was unique in that it allowed users to measure not only distances and areas, but heights as well, all through the use of a single image. This surpassed the technology at that time in which involved the use of two or more overlapping images in order to extract any height information or vertical measurements.
Pictometry is now being used within eighteen Norfolk City departments. The assessment department is one of the top users of the imagery and software. As an early adopter, the City of Norfolk worked side-by-side with Pictometry as the company revolutionized the assessment market by allowing assessors to do more work from their desktop than ever before. The oblique imagery, invented by Pictometry, provided a forty-five degree view of structures allowing for views that had never been seen on a desktop before. The improved communication surrounding the selection of comparable properties to constituents, significantly reduced the number of costly appeals for the city. In many states, assessment guidelines and regulations were modified to incorporate this new capability.
Find out how the City of Norfolk uses Pictometry imagery.