March 19, 2015
'Where Are Our Fire Hydrants?' City of Oskaloosa Uses Pictometry Imagery to Map Them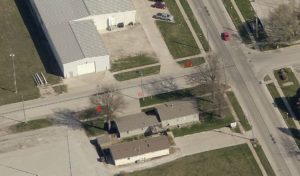 We love hearing how our customers are using our products! Brian Knudtson, GIS Director, Mahaska County, Iowa shared his story of how he was able to use Pictometry CONNECT™ to map and locate all the fire hydrants in the City of Oskaloosa, Iowa. 
Here's what Brian had to say:
In one week, the Mahaska County GIS Department received two phone calls asking about map data showing where fire hydrants were located within the city of Oskaloosa, Iowa. One call was from the Mahaska County Emergency Management Coordinator, the other was from the Oskaloosa Fire Department. I had to tell them that we did not have any maps or GIS data showing where the fire hydrants were located.
I began to put together a plan for how to create the fire hydrant data. Initially, the plan was to go out and use my smartphone to collect GPS points or to borrow a GPS unit. But at the time, there was too much going on in the office and I just didn't have the time to walk all over town. Also at that time, the weather was less than ideal.
It occurred to me that fire hydrants should be visible on Pictometry's oblique imagery. One could fairly easily identify a fire hydrant on the imagery. Logging into Pictometry CONNECT I began looking for fire hydrants on the oblique imagery. Once a fire hydrant was identified, I started to create an annotation layer and began adding points at each hydrant location. In addition, Oskaloosa was lucky enough to have Google street imaging cars go through the city in August 2013. Combining Pictometry aerial oblique imagery with the recent street view imagery gave me everything I needed to assure this layer was accurate and correct.
Once again, I didn't have time to drive around town to check things and I certainly did not have funds available in the budget to hire this work to be done. Instead, I created point data showing fire hydrant locations as my schedule allowed and didn't need to leave my office to do it. After a few weeks, I was able to map the locations of all the fire hydrants in Oskaloosa regardless of what the weather was doing and at no additional cost to the city or county. I was able to give the data to Emergency Management and provide the data to the Oskaloosa Fire Department to be used in their MARPLOT software. As a result, future plans are to attribute the fire hydrant points with data about age, further enhancing the value of this data for our users!