September 8, 2016
What's Next for Baton Rouge After the 2016 Flood?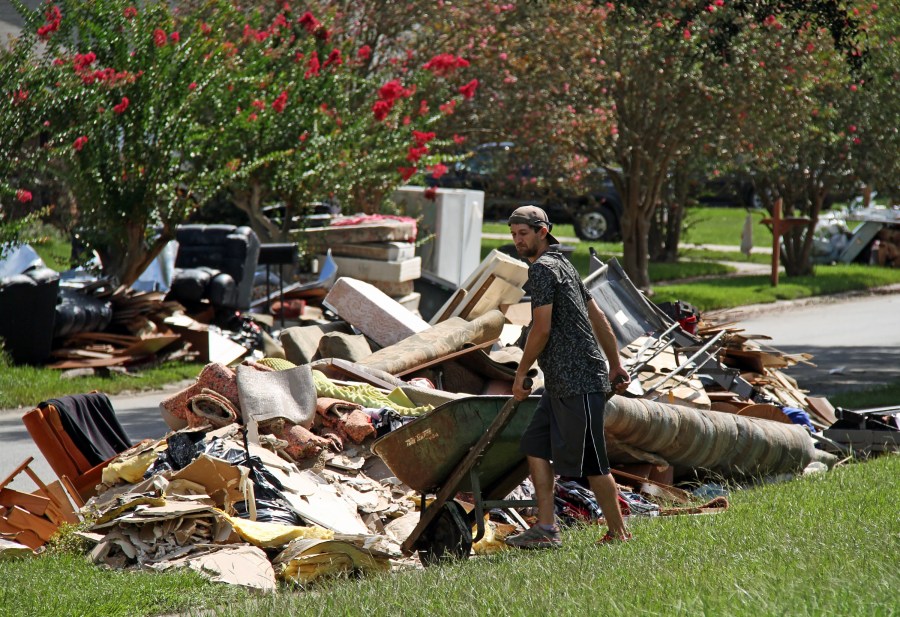 For some residents of Louisiana, the flooding in Baton Rouge must feel like déjà vu.
In 2005, after Hurricane Katrina ripped through New Orleans and other parts of the South, many displaced residents flocked to Baton Rouge, a city that historically has had little, if any, flood damage.
But the flooding throughout the region that took place from August 12 to 22 has destroyed or damaged thousands of homes, as well as causing 13 reported deaths. The flood damage in Baton Rouge is some of the worst that the United States has seen since Hurricane Sandy in 2012, with areas like Watson, Louisiana, reporting waters as high as 31 inches.
According to The New York Times, the Baton Rouge Area Chamber has used mapping technology to track flood damage. They estimate that more than 140,000 homes in the Baton Rouge metropolitan area may have been affected by the floods, especially in the parishes of Livingston and East Baton Rouge.
Tallying up the cost
USA Today reported that more than 116,000 people have already registered for federal assistance, and the Federal Emergency Management Agency (FEMA) is processing at least 26,000 flood insurance claims worth at least $20 million in advance payments.
Yet reports also revealed that roughly 80% of the damaged homes in the Baton Rouge area weren't covered by flood insurance. FEMA sets the guidelines and standards for flood risk analysis and mapping in accordance with the National Flood Insurance Program. According to FEMA's analysis, flooding in Baton Rouge was deemed a 1,000-year event – meaning that there was just a 0.1% chance that such a flood could occur at any given time. This accounts for the lack of flood insurance coverage throughout much of the area.
FEMA is providing federal aid to those affected by the flooding and has distributed more than $107 million already. Shelter At Home, a state program, opened up on August 29 and provides eligible Louisianans with up to $15,000 to make their homes habitable again.
Even the city of New Orleans, where people are still rebuilding more than a decade after Katrina, has stepped forward to help victims in Baton Rouge. The Wall Street Journal named the Greater New Orleans Foundation's "Nola Pay it Forward Fund," which raised more than $112,000; the foundation also gave another $30,000 for shelter animals and pets displaced in the flood.
The parishes (similar to counties in other states) around Baton Rouge have a long way to go in recovering from the 2016 flood. Fortunately, there are a number of local, state, and federal resources available to the area's property owners.
Assessing the disaster
The FEMA Damage Assessment Operations Manual outlines the crucial steps that local and state governments must take in order to receive federal aid as well as some best practices for emergency management.
FEMA advises having a clear system in place ahead of time in the event of a natural disaster. The agencies recommends that jurisdictions appoint emergency management personnel as well as establish damage assessment teams made up of non-emergency management personnel.
The manual also points out that using geographic information systems (GIS) can help local and state governments identify high-risk areas and develop plans for spotting and responding to disasters. In fact, the Baton Rouge Department of Information Services created an interactive map to track flood damage using Esri® ArcGIS tools. Within hours of the map's release, more than 10,000 rescue teams and other people in the area had used the map.
The process begins at the local or county level and is performed by an emergency manager or a person with a similar role. During the early stages of damage assessment, all information gathered must be as accurate as possible. A simple mistake can lead to delayed assistance for an area's residents. Because some areas may be hard to reach, some government agencies may use GIS or drone technology to survey an area.
Once the damage assessment is done locally, the state verifies that the damage information is accurate and complete. The state may then request a Joint Preliminary Damage Assessment from a FEMA Regional Administrator to validate the damage and evaluate its impact.
Should that region need to declare a state of disaster or emergency, the request would pass through the state government and FEMA officials to the President of the United States. The Robert T. Stafford Disaster Relief and Emergency Assistance Act of 1988, known as the Stafford Act, grants the federal government the ability to provide assistance to states during declared disasters.
Moving forward
Even after FEMA disperses aid to an area, local governments still have their work cut out for them. Significant damage after a major disaster can decrease property values, so home and business owners with severe losses may have to apply for reassessment. However, disaster relief comes largely from individual and public assistance as well as insurance.
Local and state governments are also tasked with developing better safeguards to prevent or at least handle future disasters. FEMA classifies post-disaster tasks into two categories: emergency work and permanent work. Emergency work needs to be done immediately and includes removing debris and establishing emergency protective measures. Permanent work encompasses tasks that take place over a longer period and may involve making repairs to roads and bridges, water control facilities, buildings and equipment, utilities, and other areas of infrastructure.
It's a long way to go for Southern Louisiana residents, especially twice in 11 years, but rebuilding – and improved emergency preparedness – are possible for the future.