August 30, 2022
Connect with EagleView at RE+ 2022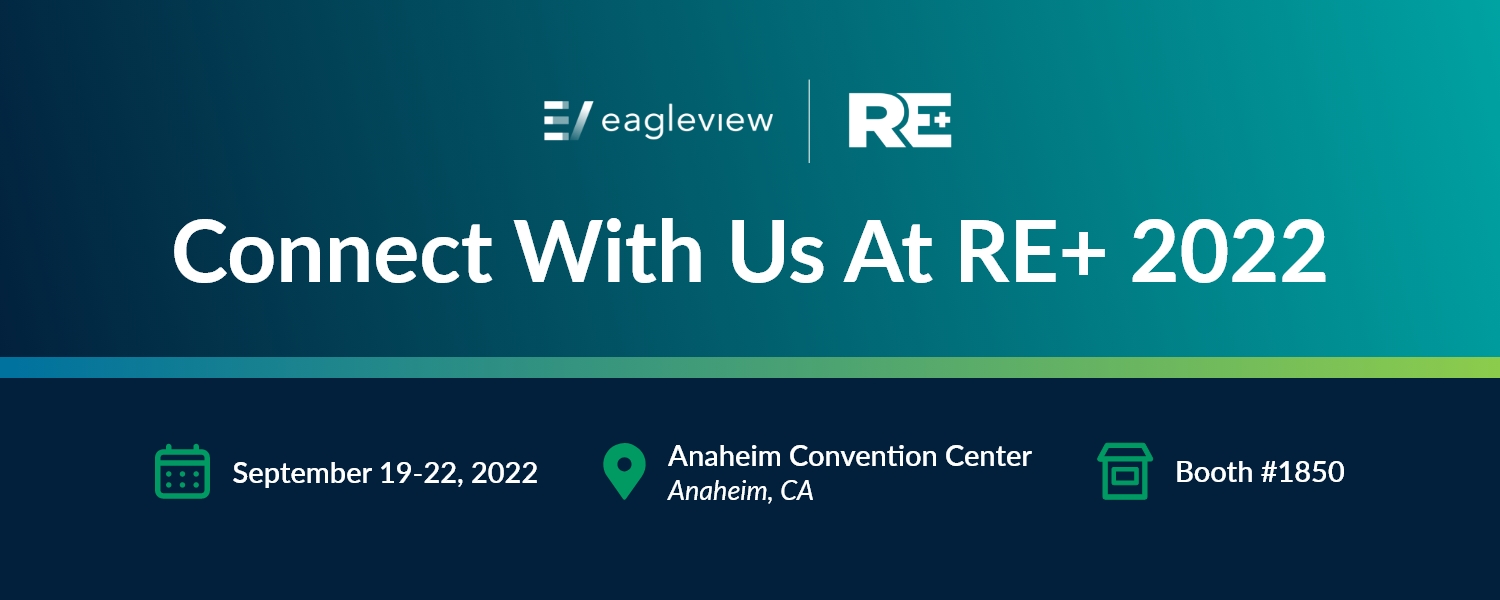 The EagleView solar team is looking forward to attending the upcoming RE+2022 show to network and learn about the latest and greatest innovations coming out of the solar and clean energy industry. Our team will be at booth #1850, sharing the many ways EagleView solutions support solar professionals and solar installation projects.
Let's Connect:
RE+ 2022
September 19-22, 2022
Anaheim, CA
EagleView Booth: #1850
Play TetraWatt at Booth #1850
If you're attending RE+ 2022, stop by booth #1850 to try your hand at TetraWatt, an arcade-style, solar-themed puzzle game. Use speed and strategy to get a high score, and join our digital leaderboard to be eligible for prizes! The top winner will receive $500.*
Plus, Learn About EagleView Solutions for Solar
See how you can use EagleView's solar solutions to get more jobs done in 2022, and make 2023 your most profitable year yet!
Remote Roof Dimensions and Shade Analysis for Faster Site Verifications
Get ahead of the end-of-year rush for site visits with complete, accurate solar property data delivered to you remotely.
Inform Essentials+
Our most popular product, Inform Essentials+ gives solar installers detailed roof data and measurements to expedite (or eliminate) site surveys. Verify your pre-designs and generate plan sets faster with our CAD deliverables.
Inform Advanced
Expedite your design with measured (not modeled) shade data in a convenient PDF report, or in a working CAD file with a pre-built 3D model of the home ready for panel placement.
Generate PV Designs in Just a Few Clicks with TrueDesign™
EagleView's easy-to-use PV design generator and 3D visualizer helps you sell install-ready designs from day one, and enables you to install up to 2 weeks faster—all while boosting your profit margins.
Generate a solar system design in just a few clicks, using the underlying data sets from Inform Advanced. No need to build a model of the house or simulate the shade scene. Simply type in the desired production offset and export an install-ready panel layout in PDF or CAD.
Plan for 2023 with new technology and better workflows to get more done without expanding your team, and without sacrificing on quality or accuracy.
You Don't Have to Wait Until RE+ 2022
We're excited to connect in-person at the show and we can't wait to crown the TetraWatt champion. In the meantime, you can put our solar data to work for your business.
For more information about EagleView solar solutions, schedule a free demo today.
*See EagleView booth #1850 for game terms and conditions