August 10, 2022
Remote Solar Inspections: Should Contractors Use Drones, Aerial Imagery, Or Both?
Wondering if drones are the only way to go for solar inspections?
If so, you'll be happy to learn that for many residential solar projects, drones aren't the only way to get that inspection done. You can often achieve the same results using high-accuracy aerial imagery.
In this article, we'll weigh the pros and cons of drones and aerial imagery, taking a look at the benefits, challenges, and ideal use cases for each tool.
3 major advantages of aerial imagery over drones
In this section, we'll cover the three main advantages of using high-accuracy aerial imagery (as opposed to general satellite imagery) for remote solar inspections, specifically as it compares to drones.
1. Eliminate onsite roof inspections and shorten project timelines
Market headwinds like labor shortages and equipment availability are creating new dynamics in the solar industry. To keep up, many companies are trying to eliminate the manual roof inspection — a time-consuming, dangerous task.
Fortunately, both drones and aerial imagery offer a safer, faster, and more consistently accurate alternative. With drones, however, you still need to schedule a time to send someone out to the property to fly the drone. Aerial imagery, on the other hand, is already available — meaning you can completely eliminate the external site visit.
As you can imagine, eliminating the site visit is a total game-changer, allowing you to reduce the time from sale to install by up to two weeks. This helps to reduce costs, allows you to scale your business without hiring, and reduces project timelines.
As PV Mag puts it, "Shortening the project timeline like this can be the difference between a completed project and a cancellation. Delays can create a negative customer experience, and typically in the industry, a shorter project time equals a higher project pull-through rate."
2. Getting consistently accurate data — without a site visit
Starting a project with accurate site data has a positive impact on every step of the solar sales cycle. In fact, high-quality data empowers solar companies to drive down customer acquisition costs which account for a whopping 18% of the total cost of a residential system installed in the US.
Not surprisingly, many solar companies have turned to drones to get more accurate data. And while drones do provide more accurate data than a manual roof inspection, they're typically on equal footing with aerial imagery.
In fact, for solar roof measurements and shade analysis data, good aerial imagery technology provides the same accuracy as a drone inspection — without the time and cost of a site visit.
EagleView's solar solutions, for example, provide ≥ 98% accuracy for TSRF and Solar Access Values (SAV), with shade data validated by DNV (formerly DNV-GL) and PV production calculated with PVWatts by NREL.
3. Reducing soft costs
As you can see in the chart above, equipment costs have fallen steadily as the solar industry has scaled over the past decade. However, soft costs (like customer acquisition, system design, installation, city permitting, and overhead costs) have remained stubbornly consistent — to the point that they now represent 60–70% of the total cost of residential-scale solar PV systems. Learn more by downloading our whitepaper, Breaking Down and Breaking Through Solar Soft Costs.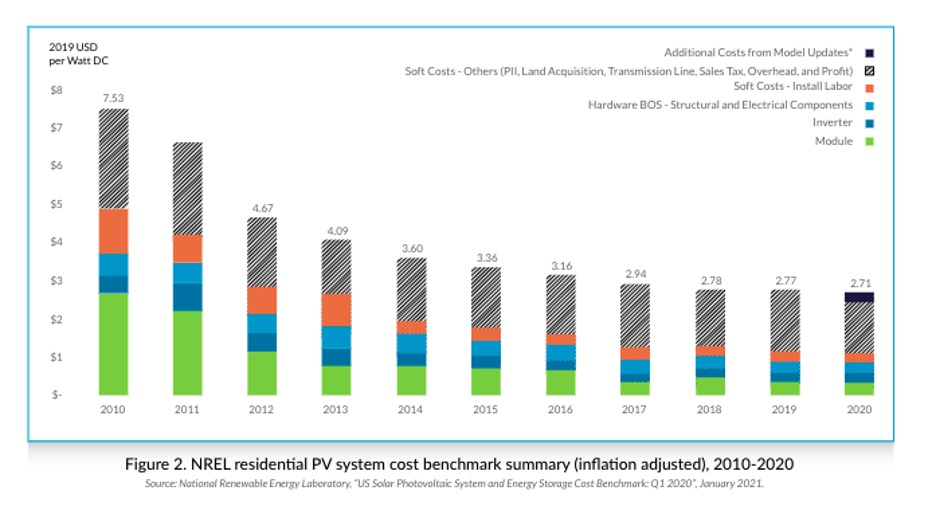 At the same time, the market for solar panels is booming due to rising consumer demand and a changing political climate, creating a huge opportunity for solar companies that figure out how to reduce soft costs and carve out a competitive advantage.
One of the best ways to do this is to eliminate the site visit using aerial imagery in order to lower customer acquisition and operations costs. Virtual site assessments and installation-ready designs also increase customer satisfaction, drive business through referrals, increase profitability, and enable companies to scale without hiring inspectors or additional labor.
Drones inspection vs aerial imagery comparison
Here's a quick round-up of drone technology compared to high-accuracy aerial imagery so you can see how they compare to one another.
| | | |
| --- | --- | --- |
| Features | Drones | High-accuracy Aerial Imagery |
| Eliminates the need for manual roof measurements | Yes | Yes |
| Provides accurate roof measurements and data | Yes | Yes |
| Provides detailed images with a high level of clarity | Yes | Yes |
| Safer than traditional roof inspections | Yes | Yes |
| Shortens project timelines | No | Yes |
| Reduces soft costs | No | Yes |
| Can eliminate the external site visit | No | Yes |
| Dependent on the weather | Yes | No |
| Requires a scheduled visit with the homeowner | Yes | No |
| Requires a licensed operator | Yes | No |
| Requires purchasing or outsourcing equipment | Yes | No |
When should contractors use aerial imagery for solar inspections?
Although you can see some similarities between drones and high-accuracy aerial imagery, you may also start to see some of the challenges that are unique to using drones, where you'd have to turn aerial imagery. So, let's take a closer look at these potential challenges.
1. When drone licensing is impractical
In order to fly a drone under the FAA's Small UAS Rule (Part 107), you have to obtain a Remote Pilot Certificate from the FAA. This certificate demonstrates that the pilot understands the regulations, operating requirements, and procedures for safely flying drones. Getting the proper licensing can be a time-consuming process involving the following steps:
Obtaining an FAA Tracking Number by creating an Integrated Airman Certification and Rating Application profile.
Scheduling an appointment with an FAA-approved Knowledge Testing Center.
Passing the initial aeronautical knowledge test: "Unmanned Aircraft General – Small (UAG)".
Completing FAA Form 8710-13 for a remote pilot certificate using the electronic FAA Integrated Airman Certificate and/or Rating Application system.
Completing a TSA security background check.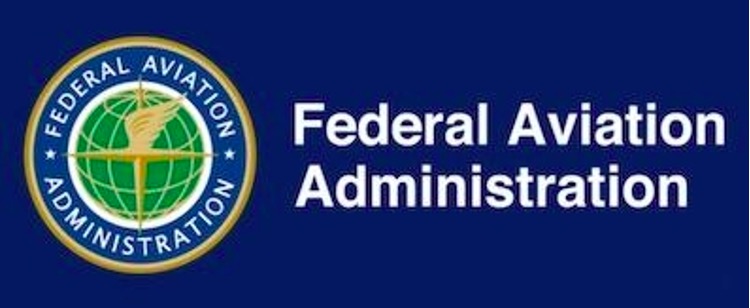 You can hire external contractors to operate the drones instead, but that comes as an added expense and may make scheduling site visits even more complicated. If you're on a budget, high-accuracy aerial imagery would be a better option.
2. When weather limitations are a factor
Another major problem with drones is that they're highly dependent on the weather. For example, you shouldn't fly drones in rain, mist, snow, or fog because the electronics can be damaged by moisture. You also shouldn't fly drones in windy conditions as they can be easily blown into nearby obstacles like trees or buildings.
As you can imagine (or know all too well), this can create a bit of a scheduling nightmare, going back and forth with the homeowner to coordinate your site visit around varying weather conditions. It also means you may waste time going out to a site only to find that conditions aren't appropriate when you get there. The use of aerial imagery makes weather a non-issue.
3. When flight space restrictions become a logistical hurdle
As you may know, there are two types of airspace in the US – controlled and uncontrolled. Controlled airspace is space that air traffic controllers are directly responsible for managing and is typically located near airports and secure locations or at high altitudes.
In general, you can only fly drones in uncontrolled airspace that's less than 400 feet above ground level. So before flying any drones, operators need to make sure that they're not in an area that's considered controlled airspace.
If you do need to fly a drone in controlled airspace, you'll need to submit a request to the Low Altitude Authorization and Notification Capability (LAANC). LAANC is a collaboration between the FAA and private industry, directly supporting drone integration into the airspace. For most residential solar inspections, controlled airspace isn't typically an issue. But depending on the region in which you operate, it can become a logistical headache. This makes aerial imagery a more convenient and efficient option.
4. When an external site visit is unnecessary
While drones may eliminate the need to climb up on the roof, reducing the risk of injury and making the visit itself more efficient, they don't really save you all that much time when you consider scheduling and travel. High-accuracy aerial imagery can provide data remotely, eliminating the need for an external site visit. This can save you up to 2 weeks of project time from sale to install.
When is it necessary to use drones for solar inspections?

Even though drones have their problems, they're still ideal in certain use cases. These include:
When high-accuracy aerial imagery isn't available: This applies to new or recently constructed homes that were built after the most recent aerial imagery of the area was taken. It also applies to a small percentage of rural areas that haven't been mapped by aerial imagery planes yet.
When assessing for condition or damage caused by a storm or recent event: Drone technology provides detailed imagery of a roof's condition in real-time. This ensures that you have the most up-to-date information when identifying potential damage to the roof surface itself.
When dealing with large commercial rooftops: Commercial roofs are typically covered with large mechanical equipment and other obstructions. Drones ensure you get an accurate assessment of roof conditions near this equipment.
So, do you really need drones for accurate solar inspections?
Unless you're dealing with the above situations, you really don't need drones to do a residential solar inspection. EagleView's aerial data is just as accurate.
Plus, using high-accuracy aerial imagery for your solar inspections completely eliminates the need for an external site visit — reducing soft costs and project timelines and improving the homeowner experience.
Using EagleView also allows you to scale your business without hiring additional workers to do inspections since everything is sent to you remotely.
Request an EagleView demo today and find out how you can go from sale to install at least two weeks faster with better designs. See how our solar solutions help you:
Save time
Lower soft costs
Increase customer satisfaction
Scale your business
Solar drone inspection FAQs
Still have a few questions about using drone technology for solar inspections? Here are a few answers to frequently asked questions.
How do you do a solar drone inspection?
To do a drone inspection for a solar project, you first need to choose a drone program. Some things to consider:
Do you want to fly the drones yourself or outsource this task to the drone provider?
Do their drones have obstacle avoidance technology?
Are they fixed-wing drones? Do they use a thermal sensor, thermal data, or thermal imagery?
Does the company offer an enterprise drone program?
What happens after the drones collect data? Where is it stored and how is it accessed?
Once you've chosen a provider, the drone pilots visit the property site, launch the drone and complete imagery acquisition. As a best practice, a drone inspection should capture several perspectives of the property, including an overview, oblique views, and super high-resolution imagery. Once images are collected, the drone pilots land the drone and upload the drone data for post-processing.
Should you use drones or aerial imagery for solar inspections?
Drones and aerial imagery can coexist as solutions for solar inspections. The important thing to remember is that there's a time and place for drones but it's not every project. Drones are best used for new construction or large commercial rooftops.
Otherwise, if you wish to eliminate the external site visit, you should use data derived from high-accuracy aerial imagery. This will help you to reduce costs, scale your business without hiring, and reduce project timelines (which improves cash flow and homeowner satisfaction).
What information can be delivered from aerial imagery-derived data?
You get helpful information like Solar Access Values, Total Solar Resource Fraction along with Roof size, pitch and azimuth, and much more; here's a more detailed sample you can look at.