September 29, 2021
Virtual Roof Inspection Costs: A Full Guide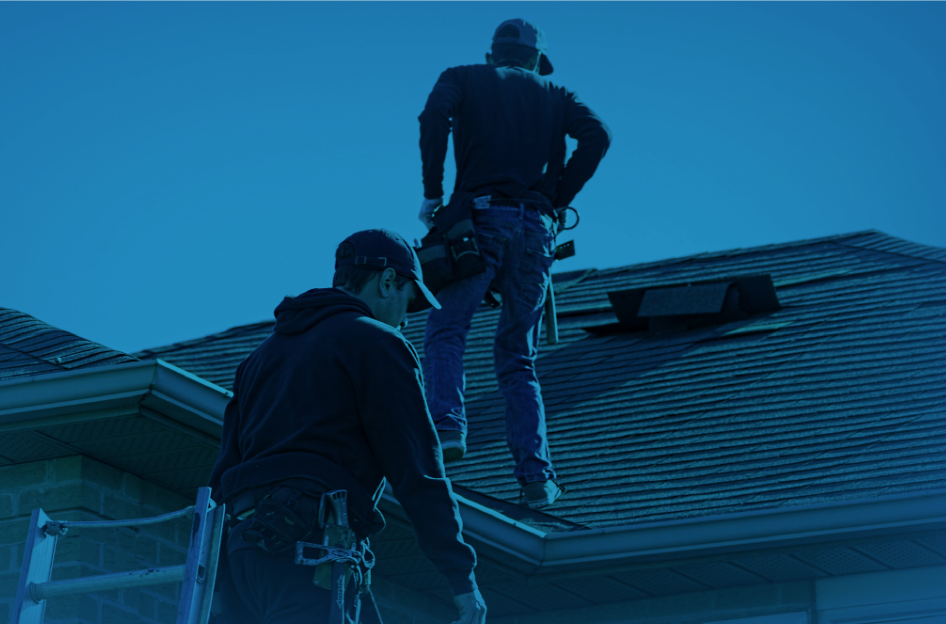 Climbing up on a roof for an inspection is a risky and time-consuming job.
But thanks to advances in technology, there's a better way to get the job done these days — no ladder required.
The answer is virtual roof inspections which use technology like aerial imagery to give roofers a bird's-eye view of the job site, complete with accurate measurements and 3D modeling.
They're safer, faster, and more accurate than physical inspections, saving you time and money in the long run.
So if you're looking into virtual inspection options for your roofing business, here's a complete guide to virtual roof inspection costs.
How much virtual roof inspections cost
When it comes to virtual roof inspections, many contractors imagine a drone flying over a house and taking pictures. And while that's a viable option, it's no longer the fastest or most cost-efficient.
These days, drones are typically only needed for insurance adjusters who need to assess damages at close range. For the vast majority of roofing projects, aerial imagery is now considered the gold standard.
Why use aerial imagery for roof inspections?
There are several advantages aerial imagery brings to roof inspections — greater accuracy, improved complexity, increased safety, and reduced inspection time. Let's dig into each one a bit more…
1. Accuracy matters more than anything else
Whether it's due to human error or imprecise imagery, inaccurate inspections are a waste of time and money for everyone involved. Roofers lose jobs to the competition, homeowners get frustrated and bail on projects, and companies order too much (or too little) material.
However, virtual roof inspections using aerial imagery, provide the most complete and precise data capture possible. In fact, EagleView's imagery has the highest resolution possible, with each pixel equaling 0.75 square inches on the ground.
We actually own and operate a fleet of airplanes with proprietary sensor technology that's designed specifically for capturing property details at the highest accuracy and precision available.
And we've spent the past two decades patenting and perfecting our oblique image capture technology, which delivers 4x the detail of standard aerial imagery and 70x that of satellite imagery. Not sure what the heck "oblique image capture" means? Read more about this in our article on orthogonal vs oblique imagery.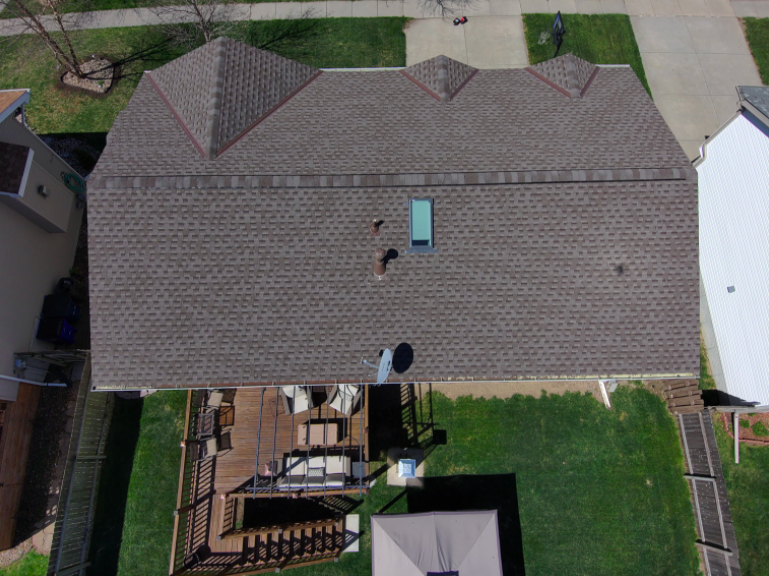 Scott Riopelle, CEO and Owner of Interstate Roofing, says, "We've saved millions over the years by using EagleView, and that's only looking at the savings of always ordering the correct amount of roofing material. I can't even imagine how much it is when you look at the time savings, the additional jobs won, and avoiding worker's compensation costs."
2. The complexity of roof structure
As anyone in the roofing industry can attest, roofs are not simple structures with nice and easy flat panes. They're complicated beasts with a variety of obstructions like chimneys, skylights, valleys, eaves, rakes, and more.
Accurate measurements must account for these obstructions while also factoring in things like total area and predominant pitch.
This complexity leads to a high rate of human error when doing physical inspections. And satellite imagery is often not clear enough to detect such details, leading to imprecise measurements and reporting.
Aerial imagery, on the other hand, is able to capture this complexity easily — providing you with accurate and dependable data for your inspection report.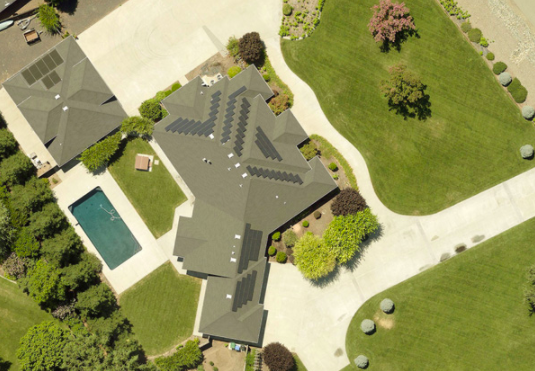 3. Safety of life and body parts
The hard truth is that every time an employee climbs on a roof, it's just an accident waiting to happen. The fatality rate for roofers is roughly 15 times higher than the average, according to the Bureau of Labor Statistics, with roofing accidents accounting for 111 of 5,333 fatal injuries in 2019.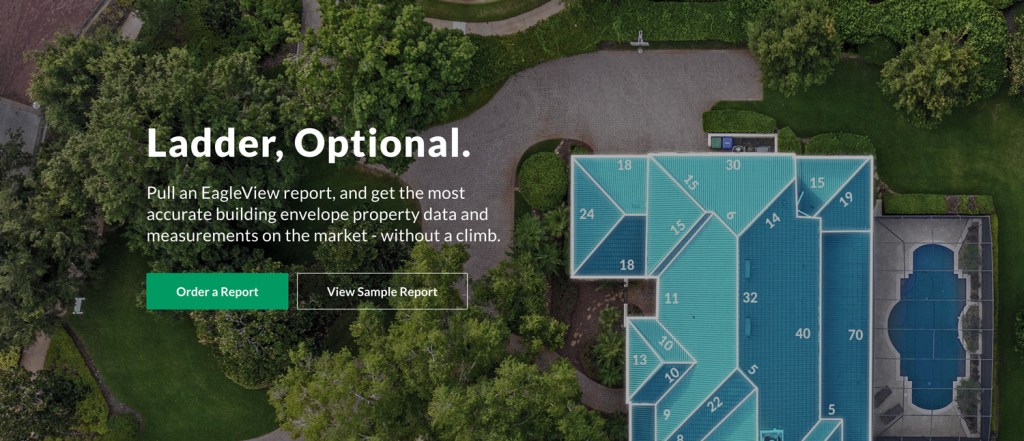 Only three other occupations have a higher fatality rate than roofing — fishing and hunting, logging, and aircraft pilots and flight engineers. (Even police officers have a lower fatality rate than roofers.) And in the era of COVID-19, on-site visits carry the additional risk of exposure to the virus.
So, decreasing the number of times you or your employees have to visit a site or climb up on a roof is a no-brainer. Not only can it save lives, but decreasing the risk of injury improves productivity and reduces the total cost of inspections and claims.
And aerial imagery takes this risk completely off the table, providing a completely virtual (and ladder-free) inspection.
4. Reduces inspection time
Virtual roof inspections are faster because you don't need to get up on the roof first. This eliminates the time spent on the roof, of course, but also time spent coordinating appointments with homeowners and driving around to different property sites.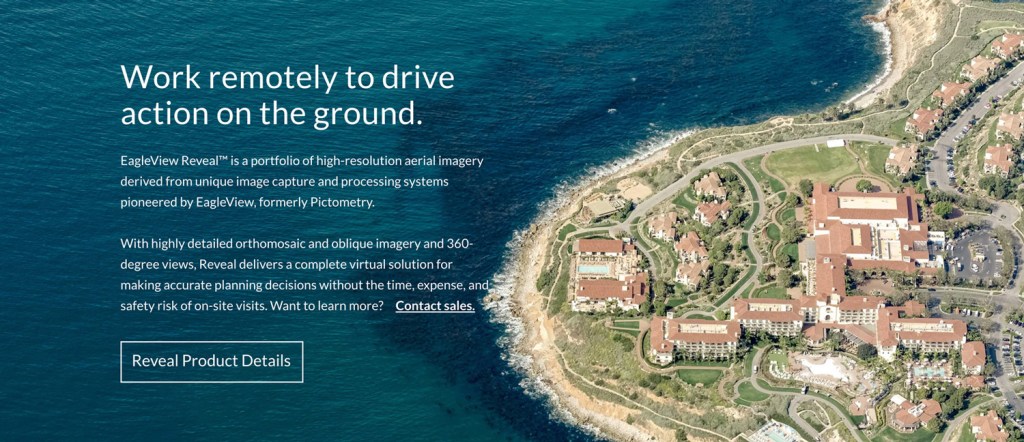 With aerial imagery, the entire process is fully automated and incredibly detailed. EagleView's reports, for example, allow you to virtually review a single roof down to the individual facet details using multiple high-resolution images and 3D modeling — all from the comfort of your own desk.
And because aerial images are so accurate, you can confidently assess properties the first time, eliminating the need for expensive and time-consuming secondary inspections.
Plus, not only are virtual inspections faster than physically climbing up on a roof, but they're also faster than using drones. With aerial imagery, the images have already been taken and are ready for you to download on the spot — similar to satellite imagery.
Drones, however, are used on a roof-by-roof basis. So you have to schedule a time to have the drone fly over the property before having access to any imagery or reports.
What your virtual roof inspection process should look like:
Now that you have a basic understanding of virtual inspections and aerial imagery, let's walk through the process from beginning to end, so you know what to expect.
(You can also learn from the pros. Read more about the inspection process in the Don Kennedy Roofing case study.
Step #1: Select the right roof inspector vendor or expert
With advancements in technology, there are a lot of choices out there when it comes to aerial imagery vendors. Everyone's throwing their hat in the ring lately. However, that doesn't mean all choices are created equal.
So when selecting a virtual roof inspector vendor, you'll want to consider the following:
How long have they been in the field?
Do they use satellite, aerial, or drone imagery?
What type of technology are they using to capture the images?
What viewpoints do they use? Orthogonal or oblique?
How accurate are their images, and what is the resolution?
If they're using drones, are they flown manually or automatically?
What type of customer support do they offer?
What is their reputation within the industry?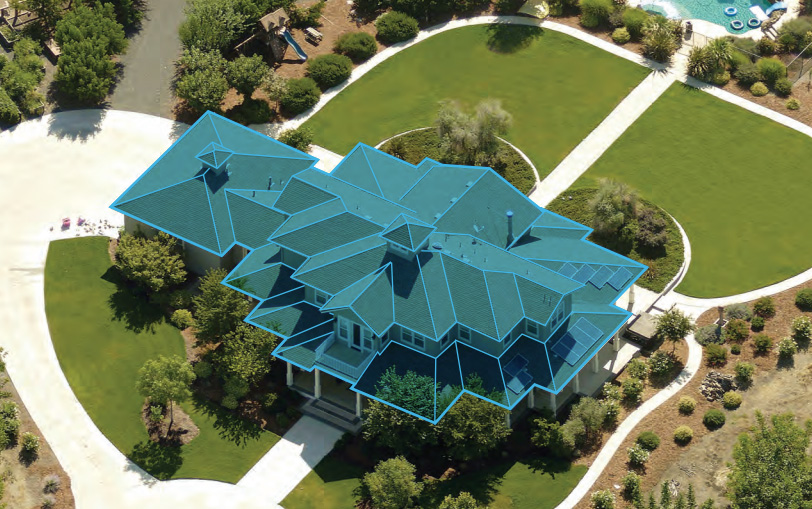 Step #2: Tell them what you're trying to achieve
Virtual roof inspections are used for a variety of purposes, from providing insurance assessments to roof replacement estimates. And each has its own specific needs and requirements.
If you're using the inspections to create estimates for homeowners, for example, you need high-quality images and 3D modeling that can be easily translated into measurements. And you need to use the measurements to calculate the cost of materials and labor.
So, make sure to tell your vendor exactly what you need to achieve with the virtual inspection and verify whether they've done similar work in the past. You'll also want to tell them what you need to see in the report to ensure you'll get the data you need.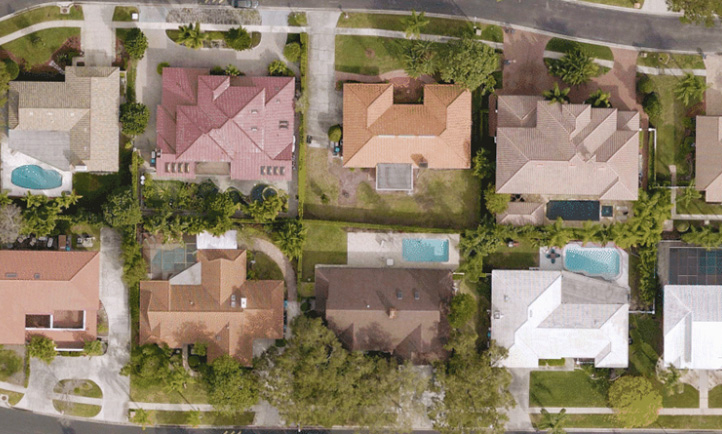 Step #3: Review their processes for capturing images and sending reports
Once you've chosen a vendor and explained what you need, the next step is to carefully review their processes. For images, you'll want to ask how often they update their images and data.
At EagleView, for example, we continuously update our images and data, re-photographing areas on an ongoing basis to capture property changes. This is especially important for roofing estimates that are based on the condition of the existing roof.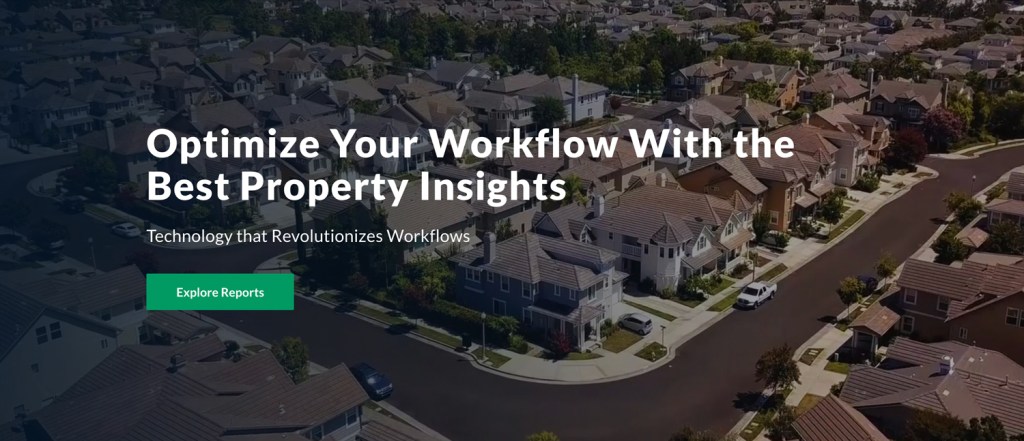 If images aren't updated frequently, the roof inspection results could lead you to erroneously tell a homeowner that they can just replace some shingles instead of re-shingling the entire roof. Then when you get up there to do the job and see the actual condition of the roof, you'll have a hard time explaining why they need to spend a lot more money.
And when it comes to reports, you'll want to find out how long it takes from the time you order to the time it hits your desktop. The faster you receive the report, the faster you can get an estimate out to a homeowner — potentially beating out the competition. (As a point of reference, standard EagleView reports are typically available in less than an hour.)
Step #4: Get clarity on what exactly you'll be getting from their roof report
Speaking of reports, the next step is getting clarity from the vendor on exactly what you'll see on their roof report. Ideally, they can provide you with a sample report that will show you what to expect.
EagleView's reports, for example, include the property address and report number on the top of every page. The first page includes the 3D model from which all the measurements are derived, along with a summary of major measurements. These include total roof area, total roof facets, predominant pitch, number of stores, total ridges/hips, total valleys, total rakes, and total eaves.
Our report also includes aerial imagery of the property, helping you identify drop points for supplies and potential trouble areas before ever setting foot on site. And it includes a pitch diagram that helps explain the complexity of the project when it comes to added costs.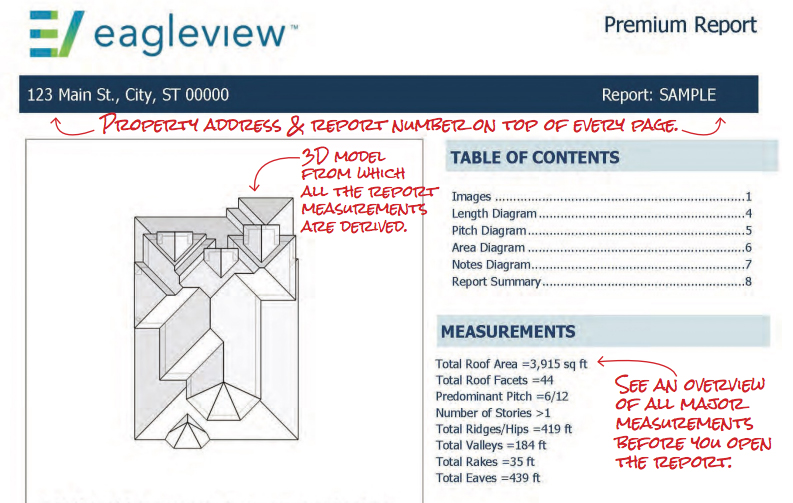 EagleView reports also determine the waste factor based on square footage and the number of facets to help plan the job efficiently. The waste calculation feature estimates the percentage and square footage of waste produced from each job — excellent for determining what size dump trailer you'll need.
And the report summary at the end gathers all the information in one place to help you create your estimate. It lists the property's unique features and complexities and summarizes linear measurements and the number of roof features.
Step #5: Order your report and create an estimate
Once you're satisfied with the chosen vendor, the final step is to order your report. Typically, this is as simple as setting up an online account with the vendor and providing the address of the property.
Then you just sit back and wait. (Ahhhhhh, so much better than climbing up on a hot roof…) When the report hits your desk, you can use the measurements to calculate material and labor costs, and then send an estimate right to the homeowner.
Many reports include features that can be used to supplement your estimate. For example, EagleView's premium reports also include a Property Owner Report you can send to the homeowner. It includes things like the notes diagram (shown above) that can be useful when discussing the job with the homeowner.
Property owner reports also make your estimate stand out as impressive and professional compared to the competition. Aggi Hall, Market Development Manager at Hippo Roofing, explains that "EagleView makes the homeowner say 'you're the expert' and helps set us apart from other roofers."
"The EagleView report gets us awarded the job about 75% of the time," continues Hall, "because you can clearly show homeowners the process every step of the way."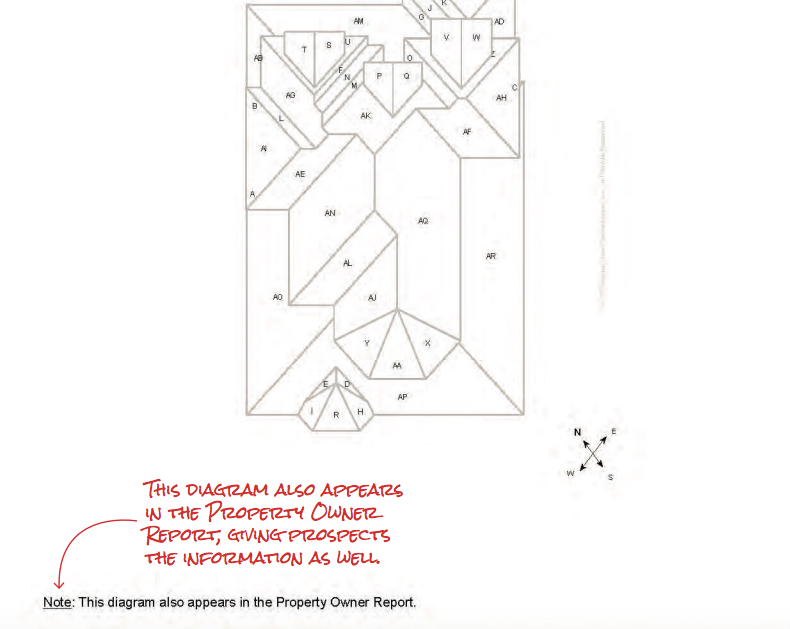 FAQs on virtual roof inspections
Still have a few questions about virtual roof inspections? It's understandable considering how long roofers have been doing it the old-fashioned way. Let's go over a few FAQs about the subject.
Can I use aerial imagery to inspect my roof?
Yes. Aerial imagery is being used more and more frequently for roof inspections. Compared to physical inspections and other types of imagery (like satellite or drone), aerial imagery is safer, faster, more accurate, and better suited to detecting complexities.
How much should a virtual roof inspection cost?
The cost of a virtual roof inspection can vary depending on many factors — the first being the type of imagery used, aerial, satellite, or drone.
For the vast majority of roofing projects, aerial imagery is the most cost-efficient. Depending on the size of the building and the complexity level of the report.
How long does the inspection take?
If you're using aerial imagery, the inspection is basically already done. Planes are typically flown continuously, uploading imagery over large areas at the same time. So the images are already taken when it comes to aerial technology (similar to satellite).
The only thing that requires time is generating the report. And a quality vendor can have those ready in less than an hour.
By contrast, drone inspections will take longer. That's because drones are flown on a roof-by-roof basis, so you have to schedule the actual flight, wait for pilot availability, get permits, and more.
For this reason, aerial imagery has largely replaced drone imagery for most roofing jobs. Drones are mostly only used these days by insurance adjusters who need to inspect roof damage at close range.
Want to do a virtual roof inspection? EagleView can help you
How roofing contractors improve close rates using EagleView
In short, Eagleview's remote aerial imaging helps contractors close deals faster because they don't have to get someone up on the roof first.
But don't just take it from us. Here's what a few actual roofing contractors have to say about using EagleView to get the job done:
Aggi Hall, Market Development Manager at Hippo Roofing says, "The EagleView report gets us awarded the job about 75% of the time because you can clearly show homeowners the process every step of the way."
And Danny Fix, Director of Sales at Homeguard Roofing and Restoration, says "If we're out hand-measuring roofs all the time, it slows us down, and we could lose jobs. If we weren't using EagleView, that would definitely be a problem."
What EagleView does to help roofing contractors:
EagleView eliminates the need to make on-site visits before providing an estimate — delivering the external property data you need to plan a roofing project quickly. Our comprehensive reports provide precise measurements, 3D roof diagrams, up-to-date aerial imagery, and waste calculations.
EagleView also helps you improve design plans using precise digital 3D models instead of drawing over 2D images and estimating the size and location of obstructions. And it helps you figure out how much roofing material to order based on accurate measurements.
Plus, you can create everything from proposals to permit sets to project plans faster with digital file exports for popular design programs.
Use virtual roof inspections to slash costs and improve close rates!
Try Eagleview, the gold standard in aerial imagery for roofers.