December 7, 2016
4 Cutting-Edge Technologies for Assessors in 2017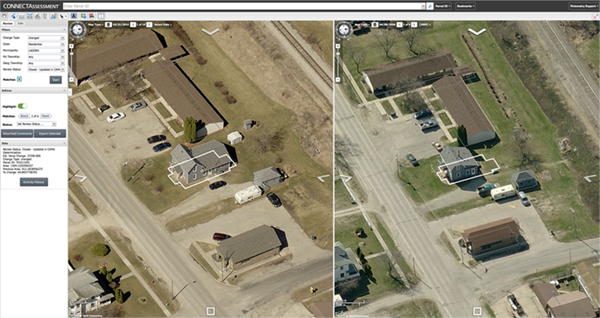 With the New Year almost here, those of us with Type-A personalities are already busting out new day planners and creating our to-do lists for 2017. This is also an ideal time for assessment officials, regardless of personality type, to figure out what they can do to stay productive throughout the coming year.
For some county and municipal governments, the fiscal year doesn't begin until summer. Yet the New Year beginning in January is an ideal time to start planning for the next fiscal year, even if it seems far away.
Departments that take advantage of remote assessment tools like Pictometry® Intelligent Images® already know that aerial imagery can reduce the need for field inspections and streamline day-to-day workflow. Plenty of assessors, however, still perform property assessments the old-fashioned way: by driving to each parcel for an in-person inspection. This method costs a considerable amount of money, involves long hours, and can mean driving thousands of miles in just a single jurisdiction.
Sound familiar? You might wonder if there's a better way to conduct assessments – and there is.
If implementing new technology is on your to-do list for 2017, here are four must-haves for your assessment department in the upcoming year:
1. High-resolution imagery for remote assessment
Assessment departments that haven't used remote assessment tools are likely to spend countless hours on on-site inspections. Additionally, trying to supplement those visits with resources like online satellite maps is a losing battle. Those images won't deliver all the details needed to keep property assessments fair and equitable.
Pictometry imagery offer both orthogonal (top down) and oblique (45-degree angle) views of properties, making desktop assessment simple. Properties with limited visibility from the road are no longer a challenge with a comprehensive aerial view from all directions.
2. A better change detection process
Is your department still performing site visits to detect property changes? When you have Pictometry fly your county on a regular basis, you have access to historical aerial imagery on our CONNECTAssessment™ platform and through our ChangeFinder™ data.
With ChangeFinder, users can see year-over-year property changes in a side-by-side comparison right on the desktop. ChangeFinder uses GIS polygons to highlight each property and parcel, which makes spotting expansions and new structures simple. Another Pictometry resource, our Sketch Check™ application, can create geo-referenced shape files from a department's CAMA software and paper sketches and flags any discrepancies it finds.
3. Mobile apps designed for assessment
With Pictometry imagery, assessors greatly reduce their need to visit every parcel. Sometimes, however, a trip outside the office is necessary – but there's no reason it shouldn't offer the same intelligence you'd receive in the office.
Created for the assessment community, the CONNECTMobile app integrates and synchronizes with your CAMA system to give you all the data and imagery you need while on-the-go. This eliminates the need to reenter information later.
4. Post-disaster imagery – just in case
Nobody hopes for a disaster to strike. Unfortunately, many of us don't think about what could go wrong until it actually happens.
We fly and capture aerial imagery in the days – or even hours – following a catastrophic event. With Critical Access Technology, jurisdictions can view imagery in Esri® ArcGIS within hours of a disaster. Our Rapid Access option lets users view images in CONNECTExplorer within just two to three days. Finally, our Early Access option is available within just 10 to 14 days following an expedited quality assurance check. This post-event imagery lets counties and cities view the damage and develop strategies for mitigation and recovery ASAP.
With high-resolution aerial imagery, change detection, mobile capabilities, and critical assistance after a disaster, why not put Pictometry imagery on your to-do list for 2017?
Want to hear more about the must-have Pictometry solutions for assessment? Be sure to head to FutureView 2017 in Nashville from February 6 to 9. Experience hands-on training sessions and advance your industry knowledge with the help of our engaging guest speakers. With an emphasis on assessment, GIS, and other government segments, FutureView attendees can learn how to best utilize Pictometry imagery in their jurisdiction and become innovators in their field. Register for FutureView today to get a head start on 2017!