May 29, 2019
What Is an Imagery Consortium, and How Can Your Government Agency Create One?

This May, EagleView brought nearly 100 imagery users together at our user group in Los Angeles. Attendees received training on EagleView imagery products and integrations, and officials from all over the county shared use cases and successes related to the use of EagleView's imagery and derived products.
Stories in user presentations ranged from environmental research around the county to code enforcement and emergency planning efforts. Yet one presentation included a compelling human-interest story.
Code enforcement officials in one Los Angeles County city found a property strewn with debris by using aerial imagery. Upon investigation, they discovered that the owner had problems with hoarding. As a result, the department was able to help the resident get the assistance she needed.
The incident was just one of many that shows the real-world impact that the combination of technology and government can have for communities.
The event was held with the help of the Los Angeles Region Imagery Acquisition Consortium (LARIAC). LARIAC is a collaborative aerial imagery acquisition program with participation from more than 30 Los Angeles County departments, more than 40 municipalities in the region, and other public agencies in and around Los Angeles County.
Aerial imagery and geographic information can help all government agencies make crucial decisions each day. Some agencies may believe that their department or jurisdiction is too small to implement this technology in their workflows. Sharing imagery across a consortium is an easy way for every department—no matter what size—to gain access to these solutions.
What is an imagery consortium?
Imagery consortiums give agencies access to high-resolution aerial imagery in order to improve the availability and cost-effectiveness of using such technology.
Christine Lam, Principal GIS Analyst and LARIAC Project Manager, spoke at the EagleView user group about the benefits that consortiums can bring to agencies. Cost savings and efficiency are number one, she said. The consortium also gives departments the ability to obtain high-quality data that is updated more frequently.
Joining a consortium makes the procurement process more streamlined. Instead of having to deal with complex technology procurement processes, the consortium leaders will manage the paperwork.
How can you form an imagery consortium?
Developing an imagery consortium with other departments is a great way to remove silos in a jurisdiction. It also ensures that agencies can quickly and easily access technology, without having to go through all the steps of purchasing it on their own.
At the LARIAC user group, Christine Lam delivered tips for developing an imagery consortium. She recommended following these steps:
Develop a technical advisory group to oversee the consortium creation process. This is typically a volunteer position, but those who are interested are happy to take this on as an "extracurricular" role.
Create awareness for the consortium. By explaining what it is and how it can help others, you'll help drive interest in the project.
Leverage imagery vendors to help promote the consortium and train the users. A good vendor will do what they can to help promote usage of imagery products, like leading lunch-and-learn sessions, and consortiums are a great way to spread that usage.
Sign Non-Disclosure Agreements between the consortium and participating agencies. This sets up an agreement on any rules and regulations surrounding use of the imagery and data.
Give vendors feedback on users' imagery adoption. Imagery vendors can develop unique products and solutions that will fit agencies' needs, or they can make improvements on existing solutions.
What difference can training make?
When an agency gives more users access to EagleView's imagery, those users have options for training on these products. Training can occur in-person—in user groups like the one for LARIAC—or in virtual settings. These sessions help users get the most out of their imagery products, no matter what their skill level with technology. EagleView's training sessions and user groups help imagery users discover new ways of using the technology and show just how many decisions
Not every consortium will be as large as the one in Los Angeles County. It's common, however, for a dozen or more agencies to share imagery and GIS data. By sharing imagery, county and municipal government agencies can make informed decisions in ways that will resonate with the whole community.
Interested in starting an imagery consortium?
Learn more about which departments can use EagleView's imagery. (Better question: which ones can't?)
Ready to boost imagery access across your jurisdiction? Contact your EagleView representative to ask about spreading imagery usage across your jurisdiction.
Want more training on EagleView's imagery products?
Save the date for FutureView 2020! At FutureView, our advanced training and user conference, attendees receive training and expand their knowledge in a community of peers.
FutureView 2020 will take place from March 9 – 12 in Phoenix, Arizona. Stay tuned for more details.
More pictures from the LARIAC user group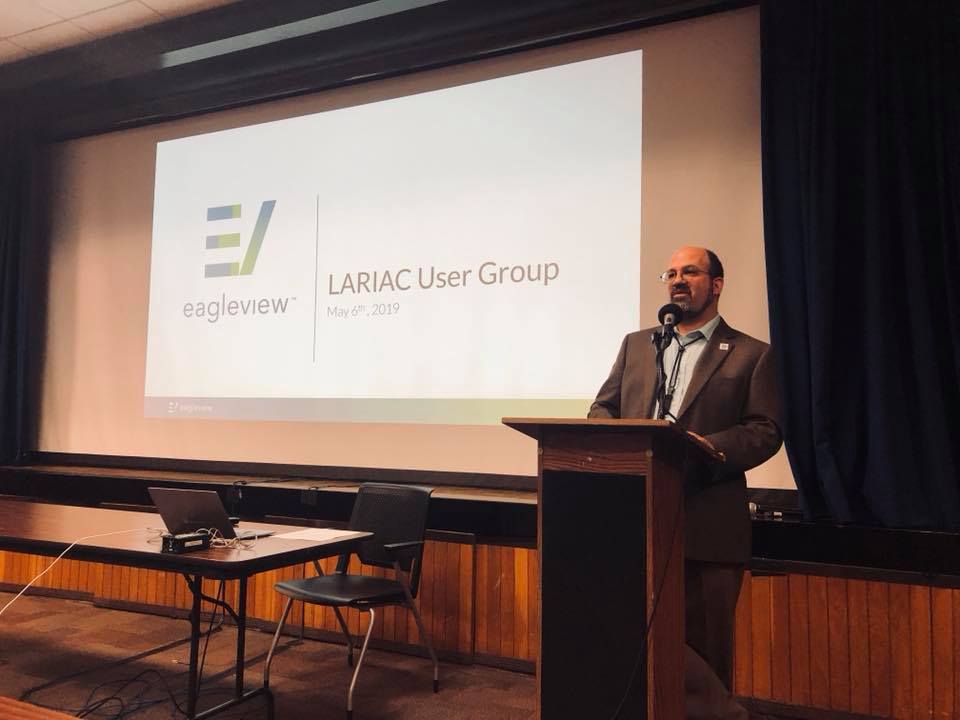 Steven J. Steinberg, Ph.D., GISP, LARIAC Project Director and Geographic Information Officer (GIO) with the County of Los Angeles Internal Services Department, kicks off the event.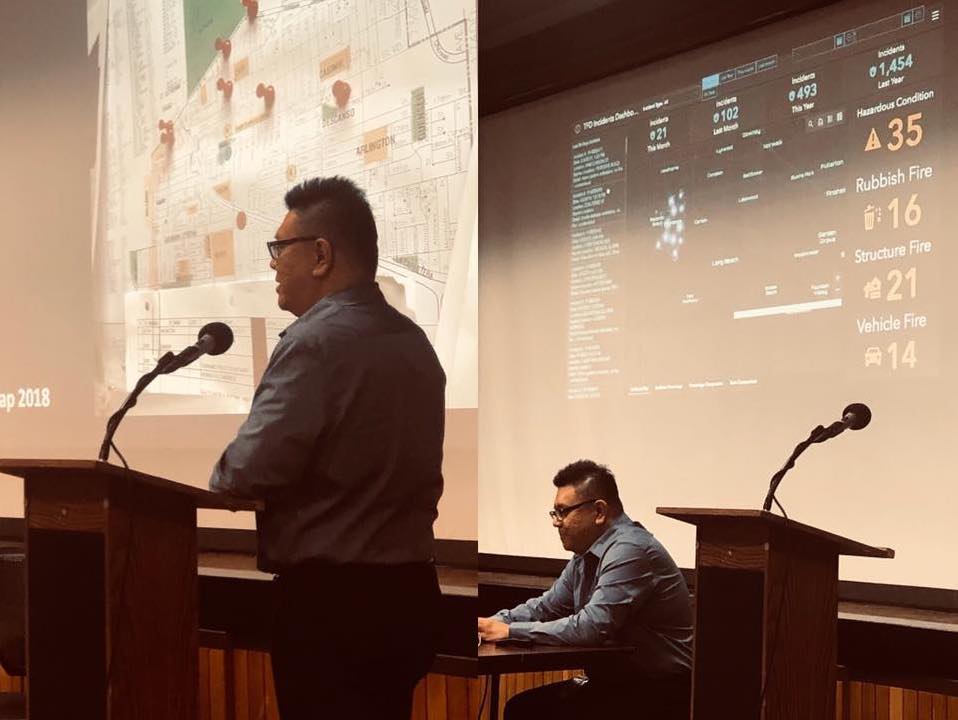 Sunny Lai, GIS Systems Analyst for the City of Torrance, presented on how code enforcement leverages imagery to enforce unpermitted work and hoarding.
Nick Franchino, LARIAC Outreach Manager and Regional Planning Dept. GIS Manager, provided an overview of public works, code enforcement, and planning agencies response to the 2018 wildfires.