October 16, 2018
A Before & After View of Hurricane Michael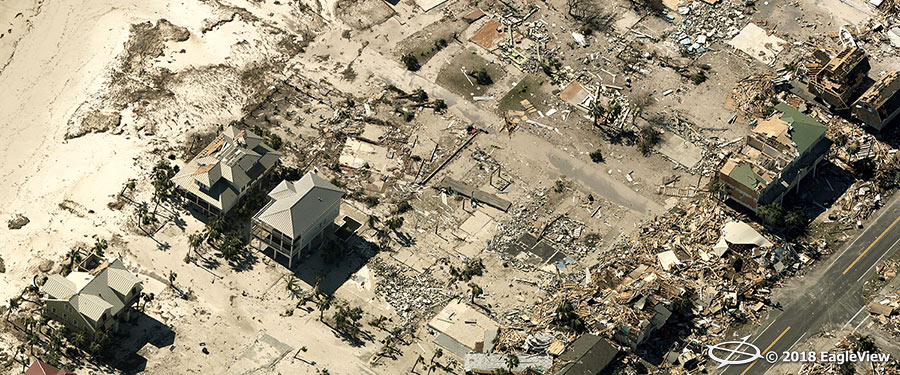 On Wednesday, October 10, Hurricane Michael touched down on the Florida Panhandle with wind speeds of 155 miles per hour. The devastation has affected millions of residents throughout the Southeast.
Catastrophe modeling firm Karen Clark & Co. estimates that Hurricane Michael, which had been rated a Category 4 storm when it made landfall, could add up to about $8 billion in private insured losses throughout the region. This would not include uninsured losses or flood damage covered by the National Flood Insurance Program. An early estimate from Moody's Analytics puts the total damages at approximately $12 to $15 billion.
Since October 11, EagleView has continuously captured imagery following the devastating Hurricane Michael. The images are live on EarlyAccess for CONNECTExplorer™, giving customers a high-resolution view of the storm's aftermath.
See below for examples of pre- and post-event imagery (click to enlarge):
EagleView is applying machine learning to before and after aerial imagery of the affected areas to determine where damage has occurred. EagleView is also working to provide the imagery and data analytics to agencies and industries throughout the region.
Government agencies, such as emergency management and public safety, can send resources to areas that need help the most. Assessment officials are able to update property records that account for storm damage.
Insurance claims adjusters can triage and investigate claims more quickly by seeing where severe damage has occurred.
Energy utilities can make repairs to infrastructure to minimize interruptions in service.
Have questions about what EagleView can do for your community after a catastrophic event? Please contact us to learn more.
Our thoughts remain with those who have been affected by Hurricane Michael.