January 19, 2018
A Big Picture Look at the December 2017 California Wildfires
In December 2017, Southern California experienced a series of 29 wildfires. Combined, they affected nearly 500 square miles, forced hundreds of thousands of residents to evacuate their communities, resulted in 19 injuries and two fatalities, and collectively destroyed and damaged at least 1,800 structures.
By the numbers
The disasters represented some of the most serious in California history. In 2017 alone, the state experienced a total of 9,000 wildfires that burned 1.2 million acres of land, or approximately 1,900 square miles.
The Thomas Fire represented nearly a quarter of that area, burning 281,893 acres, or 440 square miles, throughout Ventura and Santa Barbara Counties. It became the largest wildfire in modern California history, beginning on December 4, 2017, and finally 100% contained on January 12, 2018.
During that period, the Thomas Fire destroyed at least 1,063 structures and damaged 280 others. To put it into perspective, CNN compared the spread of the Thomas Fire to "an area much larger than New York City."
The Lilac Fire was the second-most destructive wildfire in December. It occurred in San Diego County, where it burned down 157 structures and damaged 64 more over an area of 4,100 acres. Of the nearly 500 horses kept at the San Luis Rey Downs in Bonsall, 46 were killed in the fire and one trainer suffered serious burns.
Two other fires nearby, Creek and Rye, affected Los Angeles County. The Creek Fire spread to more than 15,000 acres and destroyed or damaged more than 200 buildings. The Rye Fire covered an area of 6,049 acres, but fewer than a dozen buildings were destroyed or damaged.
Yet the wildfires were only the beginning for some in California. With heavy rain following the December fires, the reduced stability of the ground below resulted in landslides in early January. The mudflows damaged hundreds more properties, injured more than 100 people, and caused 20 fatalities.
During and after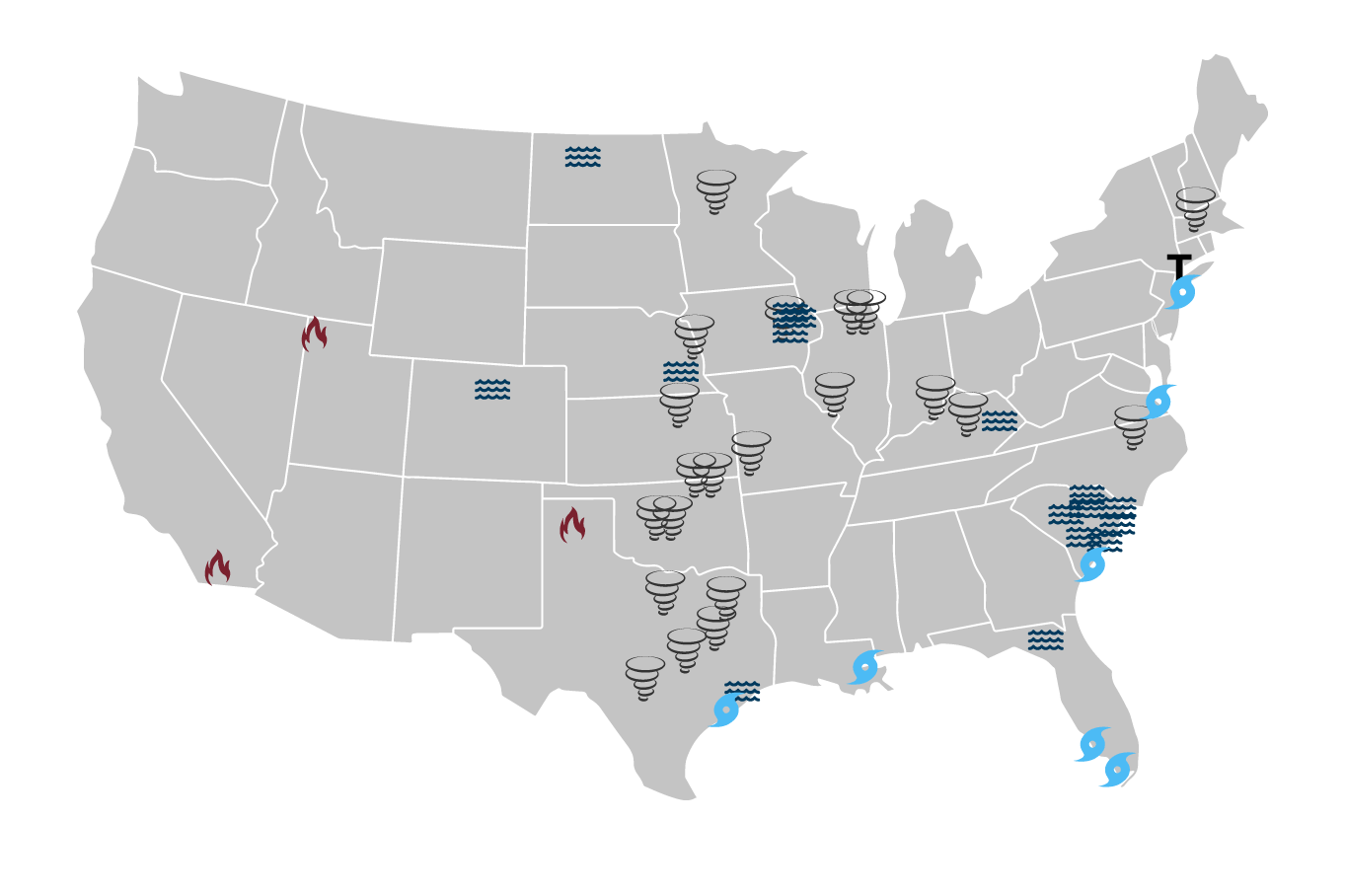 Technology helped determine the spread of the wildfires while they were still burning.
By combining pre- and post-event aerial imagery with artificial intelligence, EagleView could verify the number of structures affected in the Lilac wildfire. EagleView also donated imagery to insurance carriers while the wildfires were still ongoing to help them rapidly respond to claims.
This data helped insurance carriers anticipate claims ahead of time. They were also able to alert homeowners of any damage that occurred after they had evacuated the area.
Dozens of jurisdictions have received Pictometry® imagery from EagleView following catastrophic events like wildfires. When government agencies and insurance carriers have the information they need, they can help rebuild properties and help communities heal.