May 26, 2016
Agent of Change: Fairfax County, Virginia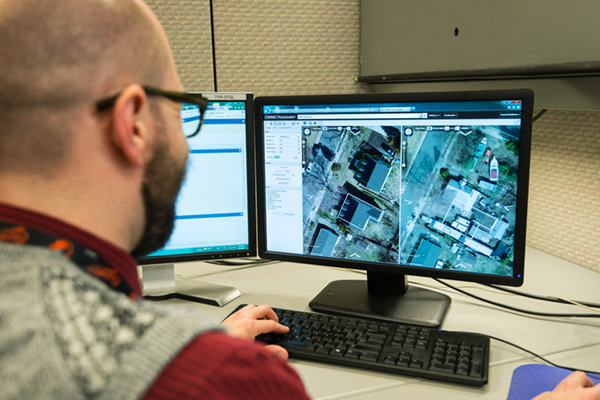 A neighbor to the nation's capital, Fairfax County, Virginia, is made up of 407 square miles and a population of 1.12 million people.  Highly developed from the 1960s through the 1980s the county has 352,910 taxable parcels and relatively little undeveloped land available.  When change happens, it's often going to be property rebuilding or remodeling.
The Real Estate Division, Fairfax County, Department of Tax Administration has the challenge of managing those nearly 353,000 parcels with a staff of less than 100.  To help them overcome this challenge, while maintaining productivity and staying on top of the changes happening in their jurisdiction, the county turned to CONNECTAssessment™ and ChangeFinder™ to help.
No stranger to Pictometry, Fairfax County has been having their jurisdiction flown since 2003. The residential appraisers would access the imagery and tools through Pictometry's Electronic Field Study (EFS), a self-hosting solution that required an onsite server and installations of software on each computer. With 52 residential appraisers and 24 commercial appraisers, using EFS resulted in a lot of computers with software to maintain.
Assistant Director for Residential Properties, Larry Mackereth, CAE, said one of the reasons that they decided to be the first county in the U.S. to implement CONNECTAssessment is because it is accessed via the web.  "The first advantage for us in using CONNECTAssessment is that is doesn't require extensive installation on each machine. When you have a staff our size, that's a pretty big advantage," explained Mackereth. "Second is that we have a fairly large number of staff that telework and having a web-based product is effective since it can be used from many locations."
Implementation of CONNECTAssessment began in spring 2014 and the first training for the appraisers was held shortly after. ChangeFinder deliverables were added and appraisers began reviewing the properties in late June.  "In reviewing our deliverables we found that about 8% of our candidates have some sort of change – this represents about 20,000 of our properties," said Mackereth.  "In order to manage this we had to focus our efforts on major changes, for example new construction and demolitions."
Learn more about the effect that ChangeFinder has had on Fairfax County.