July 13, 2018
5+ FutureView 2018 Sessions You Won't Want to Miss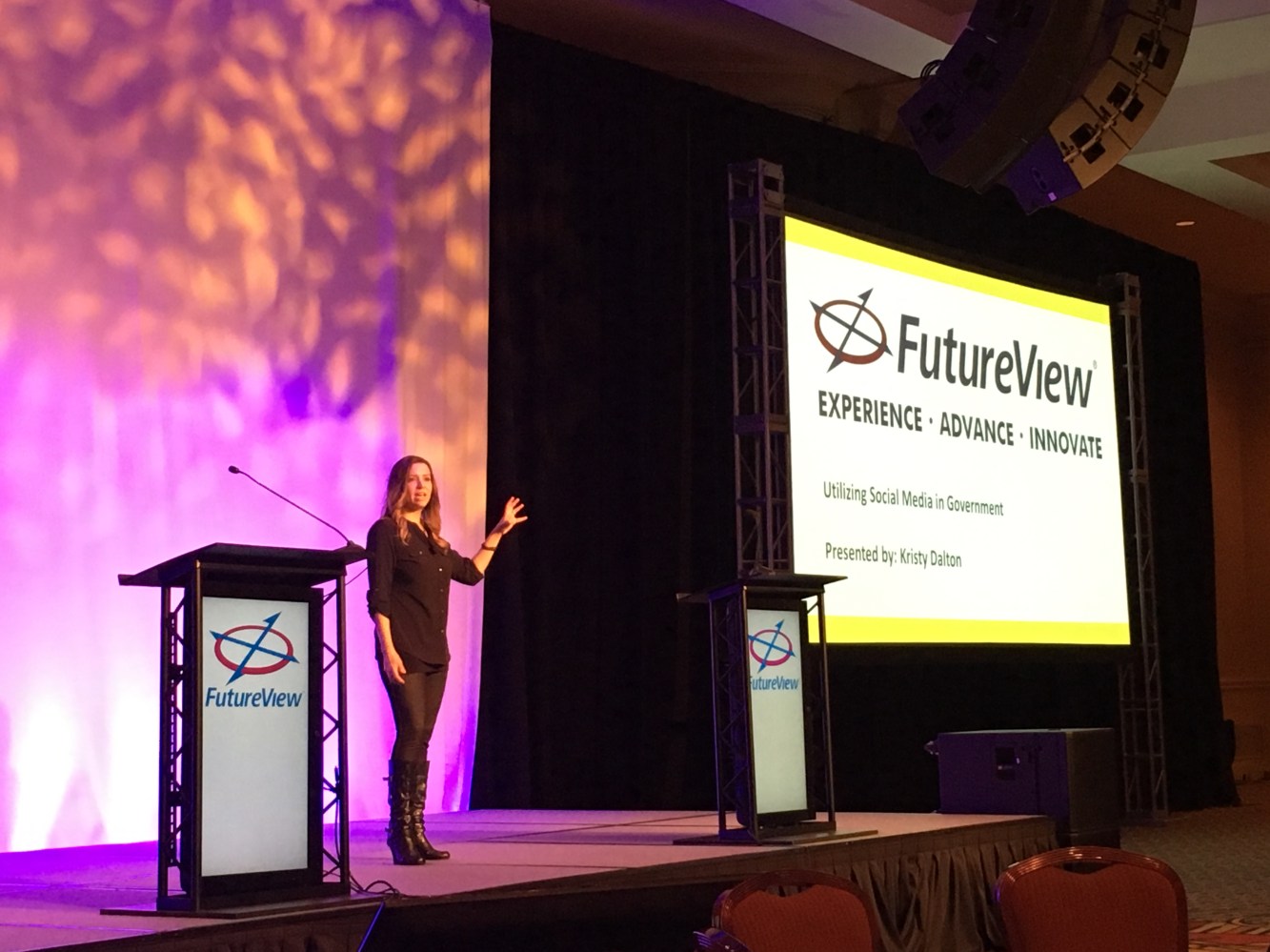 Have you registered for FutureView 2018 yet? Registration closes on July 27, 2018, exactly one month ahead of the advanced training and user conference for Pictometry® imagery users.
There's something for everyone at FutureView 2018. Here are just five of the many topics that our presenters will explore during the conference:
1. GovGirl: An Interactive Class to Up Your Social Media Communication
Kristy Dalton, GovGirl
Wednesday, 9:00 to 9:45 a.m.
Back by popular demand, Kristy Dalton, a.k.a. GovGirl, will return to FutureView this year! In her workshop, Kristy will break down the process of developing a social media strategy.
Join Kristy for this fun and dynamic workshop that will show you how to engage your community on social media and see incredible results.
2. Media 101
Wednesday, 11:00 to 11:45 a.m.
You already know all about assessment, GIS, and/or public safety from your role in government. But you might still have questions when it comes to dealing with the media.
When constituents have questions about how your department uses technology—and the cost of implementing it—you need to know how to give a satisfying answer. This workshop will teach you the basics of public relations and help your agency maintain a positive public image.
3. Public Safety & GIS Workshop: Collaborating Across Disciplines to Evolve Emergency Planning with GIS & Aerial Imagery
Chris Tarantino, Lead Consultant, Epicenter Media & Training
Wednesday, 1:50 to 3:15 p.m.
While some public safety agencies may have their own GIS departments, they may not know exactly what GIS is or why it matters so much for law enforcement and emergency response. Whether you work for a police department or a 9-1-1 call center, there's plenty to learn about what GIS professionals do. Similarly, GIS experts may want to get to know their colleagues in public safety.
This workshop will provide just the place for these two disciplines to come together. It will include a panel discussion as well as interactive group work.
4. Disaster Response Panel Discussion
Tuesday, 11:00 a.m. to 12:00 p.m.
After the devastating natural disasters in 2017, many communities found themselves struggling to get back on their feet. What do government agencies need to know about catastrophic weather events? How can they stay prepared for and resilient during these challenging times? You'll hear from a panel of community leaders as they share what they learned after the storms of 2017.
5. EagleTech and Q&A Sessions
Multiple sessions
Have technical questions about Pictometry imagery? Want to know more about Integrations? Join the EagleView team to learn about Pictometry AccuPLUS®, integrations, the EagleView Property Information Card™, and ultra-high-resolution Reveal™ imagery!
We'll also host a Q&A with our Engineering Team, featuring EagleView CTO Ajai Sehgal. Tech enthusiasts won't want to skip these sessions!
But wait! There's more…
FutureView 2018 is packed with informative training sessions. Home renovation enthusiasts will love using CONNECTExplorer™ measurement tools in the Tool Time sessions (Tuesday 2:00 and 4:00 p.m.; Wednesday 9:00 a.m.). Those looking for a challenge can traverse the Oregon Trail (Wednesday, 10:00 a.m.) or test their survival skills in a zombie apocalypse (Wednesday, 11:00 a.m. and 2:00 p.m.).
That's not all we have in store. Listen to your peers in government speak on a variety of topics related to GIS, assessment, and public safety.
If you're in assessment, you'll also want to stick around for our IAAO-Certified on Thursday. Sign up ASAP—these sessions are limited to 50 spots each!
And don't forget: Captain "Sully" Sullenberger will deliver the keynote speech on Tuesday morning in the Grand Ballroom from 9:15 to 10:15 a.m.
If you haven't registered for FutureView yet, be sure to check out the instructions here. Once you are in, you'll be able to register for sessions.
Learn more