November 4, 2014
Have you attended a PUG?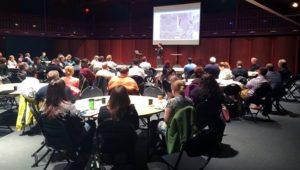 PUG is short for Pictometry User Group, a learning day featuring presentations, trainings and demonstrations that is typically hosted by one of our county customers.
Attending a PUG is a unique opportunity to learn how your county peers are using Pictometry products. The day provides an interactive environment to share and learn; it's full of new ideas and applications that you can take back to your workplace and begin integrating.
PUGs are also an opportunity to meet the Pictometry team and learn about new products and services directly from the people that develop them.  Certified trainers are available to train your team or provide live help to overcome challenges you may be facing.
If you have attended or hosted a PUG, we thank you.  If you haven't, be sure to contact your Pictometry District Manager and ask about attending or hosting one!