Help your sales team and company
be more successful.
Looking to close more deals and make doing business easier? The EagleView Works™ app is a modern digital tool that gives your sales team a standard process to follow. It helps salespeople of all levels of experience create accurate estimates, deliver impressive sales proposals, and close deals faster.
Win More Projects, Grow Your Business
Proposals That Win
EagleView Works™ for iPad1 delivers the digital experience consumers expect in their everyday life. Salespeople can easily walk the homeowner through the estimate, select material options, visualize the result, and get the contract signed.
With EagleView Works you can:
Create and manage leads – Enter leads, automatically validate the property address, and easily track appointments.
Deliver winning proposals – Quickly generate a proposal including material choices, your branded digital documents, and 3D visualizations.
Customize estimates – Tailor the bid with quality and cost package options and customize waste assumptions, labor rates, and margins.
Close deals faster – Go from proposal to contract quickly with digital proposals, marketing materials, and e-signature. Easily store all contract records online.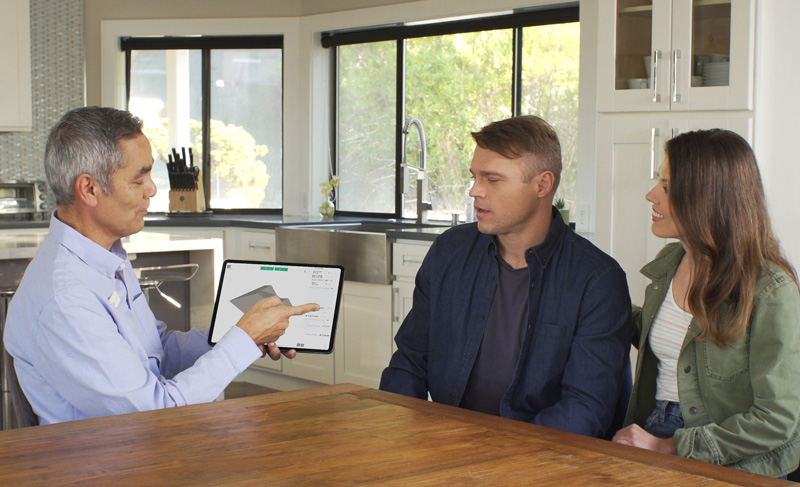 1 App runs on iPad with iOS 13 or higher. The Administrator portal supports current versions of Chrome, Safari, Firefox, and Edge
Unprecedented Accuracy
EagleView Works™ enables you to easily import the accurate property measurements based on high-resolution aerial imagery that EagleView is known for.
With EagleView Works you can:
Count on EagleView accuracy – Precise measurements enable your salespeople to confidently create estimates and proposals that win customer confidence.
Go to the roof from your computer – EagleView's patented high-resolution aerial imagery and automated measurements are more accurate and consistent than manual calculations.
Get it right every time – By using customizable templates and pre-populated pricing, every seller, experienced or not, can deliver accurate estimates.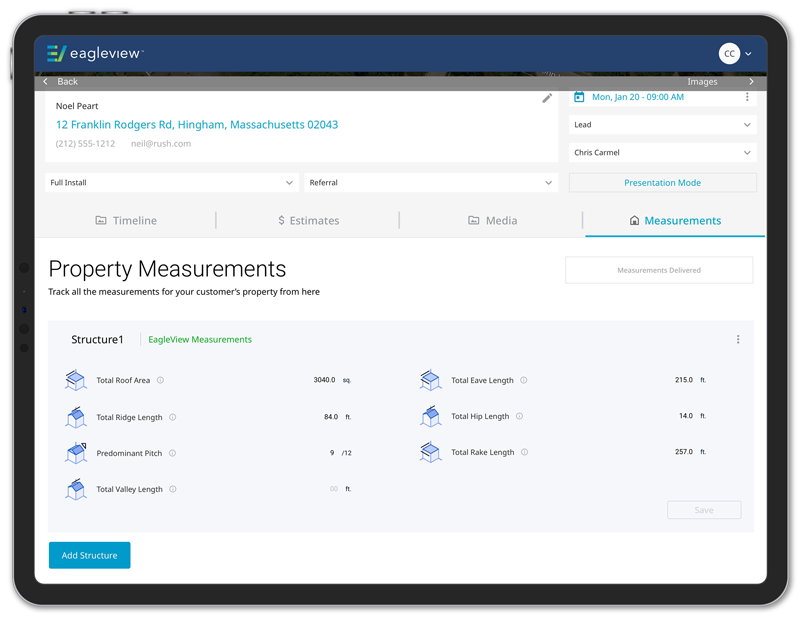 Efficiency and Convenience
EagleView Works™ provides step-by-step guidance, property measurements with same day turnaround1, a digital document library, and financing options that help business get done faster.
With EagleView Works you can:
Save time and money – On average, a site visit costs $300 or more2. By using EagleView remote imagery you can reduce trips, increase employee productivity, and improve your bottom line.
Stay in the know – The analytics dashboard gives you one place to manage leads, track proposal to contract conversion rates, and easily stay on top of your revenue pipeline.
Get onboarding assistance – EagleView's service team can configure the app with your marketing materials, price lists, and forms to accompany proposals.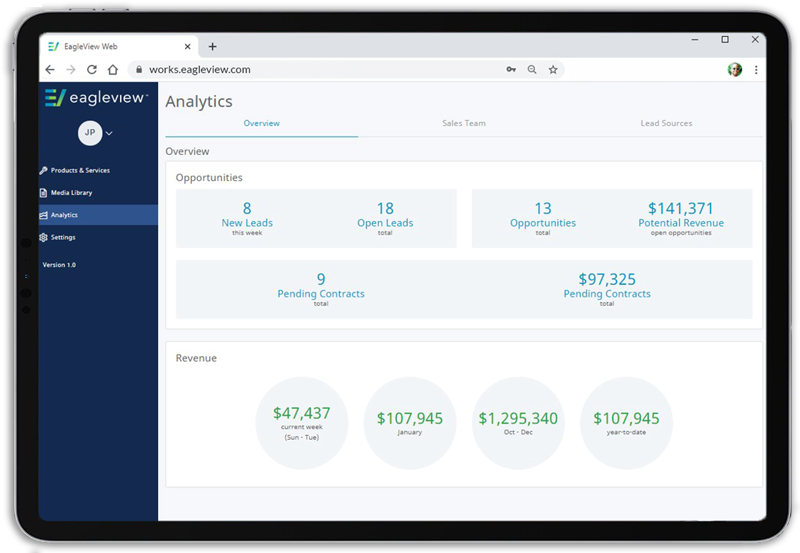 1 Same-day turnaround dependence on imagery availability
2 NREL Installed Cost Benchmarks and Deployment Barriers for Residential Solar Photovoltaics with Energy Storage: Q1 2016, February 2017
Pricing
EagleView Works™ has a subscription price of $49 per user/month with a 12 month commitment. A one-time $999 company onboarding fee applies.
The EagleView Works™ onboarding service includes:
Initial company and user account setup
Importing of catalogs and pricing
Configuration of the proposal generator
Inclusion of digital documents, including presentations and brochures
Training and support resources
A dedicated Customer Success Manager to ensure satisfaction every step of the way
EagleView Works
Let's Get Started
See how the Works app can help you complete proposals more quickly and with greater accuracy.